Greetings everyone and welcome to blog number 150! It feels like yesterday that I did blog number 100, but alas here we are 50 blogs later, knee deep in a battle against the Faroe Islands. So before I really get into what the main topic of this blog is going to be about, I'd like to recap a personal experience that happened to me a couple days ago on Twitter. I'm not going to post the pictures here out of respect for the person I was conversing with as he/she was very open to what I had to say once we got to talking. So, a Faroese person responded to a post on Twitter that I was tagged in by a member of Operation Faroes Killing Bay. The person made a remark that was pro whaling and seemed to be trying to get a rise out of us. The short of it is that this person really did not know the extent of what goes on in those islands. The person believed that the whales died a quick and painless death from a cut just behind the head. After showing this photo,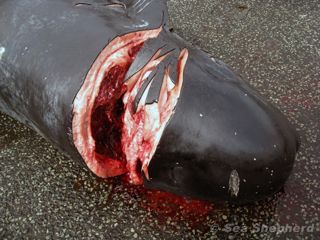 the person realized that something was not right with their belief. In that moment he/she seemed to realize that the foolproof way that the Faroese go about killing whales was really not all that foolproof and the animals do endure a lot of pain before their deaths. In the end, the person seemed to be indifferent on the topic of whaling, but seemed to really get that the slaughter was not really what he/she was brought up being told it was. This was a young Faroese person who is very proud of their country in general, as I'm sure many of us are wherever we may live for one reason or another. Just like us this person wasn't too keen on seeing their country attacked and tried to defend it only to (hopefully) realize that the actions that they wre defending were not worth defending at all. That brings me to my next point.
I think I've been called a racist by the Faroese people more than I have been called racist by the Japanese and Chinese over whale hunting, dolphin killing, and shark finning. It's incredible how quick these people are to throw out the race card. I explained to the person on Twitter exactly what I am going to say here. My issue is not with the people of the Faroe Islands. I do believe that there are a large number of people who do not support the grind over there and I'd love for those people to stand up and make their voices heard. At the same time though, I know that there are people over there that do support it and as nasty as it may sound, even lust for it. I am opposed to any slaughter of animals. If that much isn't clear I don't know what is. That includes the United States killing Sea Lions in the West for eating... I don't care the nationality or race. I am against the killings and that is my issue with the Faroe Islands. I think the country itself is beautiful and pictures can certainly prove that, however, I will never go to or support anything that the Faroe Islands do or want to do due to the fact that their government and a few hundred citizens have a blood lust for pilot whales. I may poke fun on Twitter, I may say things that are not the nicest, but it is nothing against the good people of the Faroe Islands, it is all aimed and directed at those who are directly responsible for the deaths of hundreds if not over a thousand pilot whales every year. It doesn't matter who you are or where you are from, if you participate in the slaughter of any of the animals in these blogs that I do, then you are an enemy of this blog. On that same page, if you are just now learning the truth about what is going on in the Faroe Islands and ma be experiencing a change of heart, I say welcome and thank you for being open minded. Another thing that I am also against using the military to discourage conservation organizations which is the main reason that I am typing up this blog today.
This morning I read an article posted by Sea Shepherd Captain Paul Watson that the Danish Government has sent naval units to prevent Sea Shepherd from preventing the slaughter of the whales in the Faroe Islands. First of all... Massive grey area. Denmark has time and time again said that the Faroe Islands are self governing and can do nothing involving the whale killings despite the Faroe Islands being largely under Danish influence. However, Denmark will move military vessels and people to defend the Faroe Islands from a conservation group? I guess Denmark has nothing better to do in a country where having intercourse with animals is widely accepted by the Danish government. I'm not going to go into any details on that as this is not a blog about dogs, but the facts are facts as disgusting as they may be to you and me. Getting back on track here... Yes, the Danish Navy is currently in the Faroe Islands following Sea Shepherd's every move.
The Faroe Islands have threatened Sea Shepherd with violence since they've arrived on the islands, but to my knowledge, outside of trying to block Sea Shepherd vessels from getting into the water, there has not been much in the way of physical violence towards the visiting conservation group. The Faroese continue to state that the grind will go on as planned as soon as whales are seen (apparently none have been seen since Sea Shepherd showed up). So Denmark has gotten themselves involved in something they told the world time and time again that they cannot get involved with. What exactly do I think these Danish navy vessels will do? I have no idea. I don't know if they are there for intimidation purposes or if they are going to try and arrest the protesters in the event that whales are seen. They may be there to shoot down Sea Shepherd drones if they try to live stream? Again I have no idea what a nation's military is doing or trying to prove in going up against what equates in this case to a small group of unarmed boats. They are certainly not showing the world that they are a force to be reckoned with and I would think if any harm comes to Sea Shepherd vessels or crew that an international event would kick up given that Sea Shepherd is really a global group as their crews are from all over the world. If anything that would cause more people to seek education as to why the Danish navy is there and in turn learning the truth about the grind.
Again, I have to ask the question. Does Denmark really have nothing better to do? They leave the Faroes to govern themselves and basically be their own country with their own police force, yet they need to run to their protection over unarmed conservationists? Can't the Faroese police handle those big bad Sea Shepherds if they are breaking any laws? Apparently they are not actually doing anything illegal as they are not being arrested for any crimes in the Faroes at this point. Denmark really should pull its Navy back to Denmark where it belongs. If something takes place between the Danish navy and unarmed conservationists, what then? Is Denmark really willing to risk an international issue over whaling in a country that they apparently have zero control over? The upcoming months will tell on that story. I hope nothing physically violent ensues between the Danish military and Sea Shepherd, but we will all have to watch and wait on that one.
While the Danish military seemingly takes aim at Sea Shepherd, we continue to watch and learn. The Faroese seem to think that Anonymous is not that big of a threat when it comes to their whaling program. That is simply not the case.
While Anonymous may not be out there on boats staring battleships in the face, they are educating and spreading the TRUTH about the grind. Should the worst happen and whales are killed, I would not be surprised for the tactics to change and become damaging in more than one way. Operation Faroes Killing Bay has taken the vacation hashtag of the Faroe Islands on Twitter and has already alerted many vacation goers of just where they would be going if they chose to visit the Faroe Islands. The thing that the Faroes are not getting is that Anonymous is not a group. It is an idea. The people involved in Faroes Killing Bay are more than capable of changing the minds of people in regards to the grind as I can personally state given the story at the start of this blog. You can't kill an idea. Even if Sea Shepherd gets booted out of the Faroes, Anonymous will remain and be the voice of the voiceless. I will continue to bring you as much as I can about Operation Faroes Killing Bay as it progresses and what it achieves. The Japanese learned the hard way during Operation Killing Bay that the Anonymous collective is one that should never be taken lightly.
Me? I'll just be continuing to blog and attack the Faroese on Twitter and Facebook. I buy into the notion that you can't kill an idea and as long as I have a voice, I will continue to use it for the pilot whales of the Faroe Islands. Operation Bleeding Seas II will stand and fight side by side with Operation Faroes Killing Bay until the killing of pilot whales stops (at some point Operation Bleeding Seas II will be given a new name for the fall campaign, but you get what I mean).Stay tuned for more Faroe Islands stuff in the near future and as a side note... Should Denmark decide to openly attack conservationists I might have to stray from the norm here and do a special blog on dogs... Just for Denmark.... and all dog lovers out there.....