I apologize if the title of this blog seems to be a little odd. I promise by the end of it you will understand the title much better. So the premises of this blog is two stories that have come out over the past few days. One of these stories has a happy ending, but at the same time sends a confusing message. The second story is simply horrific, sad, and flat out disgusting. So here we go...
There was a pod of orcas that had somehow managed to get themselves trapped in ice in Canada. The pod of orcas were stuck under a sheet of ice that had a hole that was roughly the size of a truck.
Photo by:
Marina Lacasse
The winds shifted and with it, the ice. This allowed the orcas to escape yesterday! The news of these trapped marine mammals made headlines worldwide and many rescue operations were being prepared to get underway. The fact that these animals got away and that so many people were ready to risk their own lives to save these orcas is truly an amazing thing. The orcas have not been seen and it is thought that they are trying to make their way to where they should be, roughly 621 miles from the ice in Hudson Bay. It appears that there is a happy ending to this story. Now though comes the confusing part. On the opposite side of the world in the Southern Ocean, Japan has sent it's whaling fleet to poach the sea of whales. They do this every year and outside of Australia, no nation really responds to it. No headlines are made by it, unless a major clash between the whalers and Sea Shepherd Conservation Society takes place. People just seem to have the attitude of that's just the way it is. The orcas that were trapped in the ice were trapped by nature. Ice moves all the time and it is simply a part of nature. Yet people are so quick to fight nature and try to save these orcas. So with that being said. Why are so few people willing to do the same thing for animals being threatened by humans. What's the difference between an animal being caught in ice and freezing as they have done for million of years and an animal getting an explosive harpoon driven into their backs and shot with a shot gun until dead? Why is the latter so much more accepted than the prior? That is what I am so confused about. Yes it is great that so many people were willing to help this pod of orcas, but why are those same people so quiet on hundreds of whales being slaughtered for money? This is something new, but if you have you're own theory on that please do me a favor and say what it is in the comments section. I'd love to hear some opinions on the matter cause for the life of me I cannot figure why...
This is not okay...
Photo by:
Marina Lacasse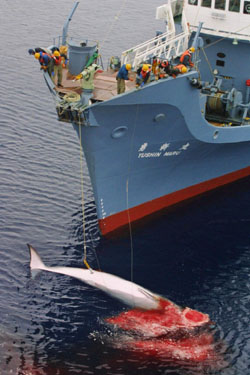 Yet this is acceptable...
Now for a truly sad and terrible story out of the shark hatred capital of the world, Australia. Fisherman have caught a massive tiger shark just a short distance from the beach in Queensland's Sunshine Coast. The 1102 pound shark was killed because it was simply too risky to let go... What makes matters even worse was that this shark was a pregnant female tiger shark. Yes you read that right, the shark was pregnant.
Why is this allowed to exist? Why is crap like this perfectly okay in Australia. The Australian government has such a fear of sharks that it seems any and all are to be killed if caught. Tiger sharks are very slow at reproduction, there's a chance that this massive girl may have never had pups before. It's just nature's way of controlling shark populations. This shark was not bothering any swimmers in the area. It was not going around eating small children, although given it's size it would not take much. It was not chasing people out of the water. Despite all of that, it was too risky to let it go? That just doesn't add up to me at all. There have been increased shark sighting near the coast, but wouldn't you know it, shark attacks really have not increased at all. The sharks are coming closer to shore because there is less and less fish offshore. So sadly this animal and her unborn baby had to die for literally no reason.
So there you have it. One incredibly sad story driven by sheer hatred for sharks and another that has a happy ending, but a very confusing message...